Are you looking for a reliable store where you can get the best material for baby clothes that are comfortable and safe for babies' skin? Then, shop from the Indie Project Store, the best place to find the best qualities of cloth for babies that look beautiful and also are comfortable for your baby. Here you will find amazing collections of clothes for your kids. The clothes available at Indie Project are trending, cute, soft, and comfortable to wear. Wearing the dresses of Indie Project Store, your kid will feel great comfort, after all, if something matters the most concerning their clothes is their comfort. Babies must feel comfortable in whatever they wear. The Indie Project Store always keeps in mind babies' comparability and safety.
You are welcome to the Indie Project Store. We are happy to see you. Indie Project Store is a homegrown clothing brand for children of age 0-5 years. With all the years of selling Indie Project Store has grown into an e-commerce platform curating products from local brands across children's fashion, bedding, education, health, and nutrition. The store aims to provide support and encourage women to run businesses or to generate income. The store provides employment opportunities empowering women from marginalized communities. Indie Project Store works with local NGOs and many small businesses for their clothing. We always try to source products from ethical, sustainable, and community-engaging businesses. Indie Project aims to create a safe and open community run by parents for parents to share ideas, network, and enable conscious and mindful parenting.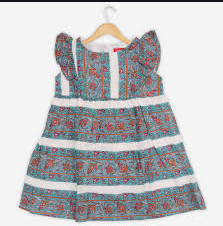 Baby Clothes: At Indie Project Store you will get very amazing qualities and collections of baby clothes. The material of baby clothes is very soft and smooth. The clothes should be comfortable, soft, and easy to take care of. Your babies will feel so light to wear the clothes of the Indie Project Store. You will find our collections amazing. Some of our collections are
Whitewater kids unisex organic koi red kurta plus matching pants. It is soft, breathable, comfortable, and of pure cotton.

Whitewater kids unisex organic Koi Jhabla Bag-Patang and Mint Koi. It is a summer-friendly cotton cloth providing breezy comfort to your baby.

Whitewater kids unisex organic Koi peach Jhabla with red pants. It is fish-printed cotton clothing. It is one hundred percent organic cotton and is completely comfortable to wear.

Whitewater kids unisex organic newborn Bag-Patang + Koi red angrakha. This is our summer special organic clothing which is comfortable to wear.
These are some of our collections you can go to the dress section or babies clothes section and there you will find many amazing collections for your babies along with the price and size chart.
Some of the factors that must be kept in mind while looking for baby clothes:
Fabric: The first and the foremost factor to keep in mind is the type of fabric you buy. The skin of newborns is very sensitive and therefore you need to keep in mind that the fabric must be soft and safe for your babies so that they don't get rashes or any other skin irritation. You must look for soft colors and not bright colors as bright colors contain fluorescent agents. Therefore, baby clothes should be of soft colors.

Safety: Another important factor is safety. You should not buy clothes for your kid which contain flowers, bows, hooks, and buttons. If a dress contains any type of decoration, it must be firmly attached. Sleepwear must be of flame-resistant fabric or snug-fitting to protect the baby from any kind of burn.

Season: Buy clothes according to the seasons which will keep them comfortable.

Sizes: Buy clothes that fit your baby perfectly because the proper size will make them feel comfortable.

Cost: You should never go for the lowest price, should never compromise quality for the price. Buy top-quality clothes that are soft, comfortable, breathable, and of baby-friendly cloth material.
Indie Project Store always keeps in mind all these factors while manufacturing clothes for little munchkins.
You can trust every piece of clothing of the Indie Project Store.
Our clothes are cute and stylish yet safe and comfortable for your kids.
So, shop for the best quality of clothing for your baby from the Indie Project Store.